Barry McCabe comes from Virginia, Co. Cavan, Ireland but has travelled all over the world to bring his music to the people. He has been working extensively on the European mainland over the past ten years, he has toured in the US and also in such far away lands as Egypt! Barry's music can best be described as rock & blues with a Celtic twist!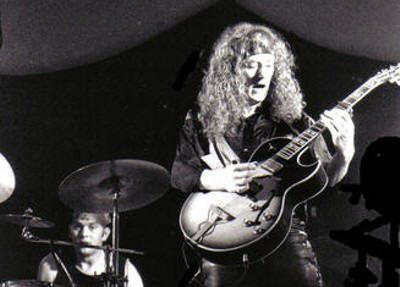 Barry collaborated with Davy Spillane to release the critically acclaimed CD "The Peace Within". This was the birth of Celtic-Blues. Davy Spillane is the well-known uilleann pipe player who played in Riverdance. He has also played with Bryan Adams, Van Morrison, Chris Rea and many others.
Barry played support to Freddie King on his last European tour, which included the Paradiso club (where part of the Rolling Stones "Stripped" CD was recorded).
He appeared last summer with Status Quo & ZZ Top at the Montereau Festival in Paris, France.
He also headlined the Waterpop Festival in Holland for 20,000 people.
Mick Taylor (former Rolling Stones guitarist) was Barry's 'special guest' for the release party for the "Beyond The Tears" CD and since then they have been working together when their respective schedules allow. Snowy White [Bird of Paradise] was also Barry's 'special guest' for several festivals this summer!
Barry's version of the Fred James song "Full Moon On Main Street" won the Sheheshe Music Award in the USA.
Barry's own composition "One Of These Days" was voted one of the top six blues songs in the world by the Backas Jazz Society in Helsinki, Finland.
Last Spring Barry undertook an extensive tour of the Netherlands – playing 12 concerts in 12 days in all the 12 provinces. This was to help raise money for the "War Child" charity. Since then he has continued to collaborate with "War Child" on several other projects. He has also worked for the following charity organizations; The Irish Youth Foundation (IYF) and the Red Cross.
Barry has played on festivals/clubs with Status Quo, ZZ Top, Molly Hatchett, Walter Trout, Stan Webb, Rory Gallagher, Dr. Feelgood, Roy Rogers, Canned Heat, Ten Years After and The Sweet to name but a few. Barry's music has been played on radio stations in Holland, Belgium, Denmark, Norway, Croatia, Australia, Japan, France, Spain, Finland, Ireland and the UK and is currently being played on over 150 stations in the US as we speak.
Barry's follow up CD to "The Peace Within" is called "Beyond The Tears". It features special guests: Mark Feltham on harmonica (Rory Gallagher Band), Johnny Fean on guitar (Horslips) and Pat Mc Manus on guitar (Mama's Boys & Celtus).
Barry sums it up quite simply - "I grew up in a small town and dreamed that one day I'd be in a music group, travelling all over the world and reaching people through my music. It's a dream that has come true many times over!"